Hotel near the Santa Monica Pier
The Comfort Inn Santa Monica is your gateway to beautiful Santa Monica, one of California's most unique and ionic seaside towns. Comfort Inn Santa Monica, situated on the famous Santa Monica Boulevard, remains one of the most affordable - and comfortable - hotels near Santa Monica Pier. We're only two (2) miles away from the world famous Santa Monica beach.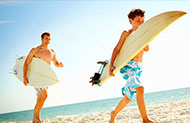 Santa Monica Hotel Attractions -
With its beautiful beaches, dynamic entertainment venues, delectable restaurants, and eclectic seaside shops, it's no wonder why Santa Monica remains one of California's most dynamic vacation destinations. From the clanking sound of the classic coasters on the pier, to the palm tree shadows casted on the boardwalk at sunset, the sights and sounds of Santa Monica will stay with you long after you visit. Leave your worries at home and come visit the Comfort Inn Santa Monica, a comfortable and casual Santa Monica hotel.